It's here! Mint.com has released the Windows 8 budget app. Now the budget software you know and love, or know about and wish you had, is available for your PC or mobile device.
Everything that makes Mint the best way to keep track of your budget is still there. But this long-awaited app comes with extra features exclusive to Windows 8.
In case you aren't familiar with what Mint can do for your budget, let's start with why millions of users think it's so great:
Mint is Smarter Than a Spreadsheet
Mint.com lets you manage your whole budget from your Windows 8 device, and you can set it up in a matter of minutes.
Add your accounts, and Mint automatically updates them each time you make a transaction.
Make a payment on a credit card? Mint reflects that in real time.
Going shopping? By the time you're in the car on the drive home, Mint has already updated your checking or credit card account.
You can even track cash spending by entering those transactions right on your mobile device.
Budget Creation is Simple
Mint is a powerful tool that gives you flexible ways to make and monitor your budget. You can set goals, and then watch the results in graphs and charts as you make progress.
Set up categories within your budget, such as groceries, and Mint lets you know where you stand in real time, every day.
If you come too close or go over budget, handy alerts help you stay or get back on track fast.
And like a handy financial advisor in your pocket, Mint also offers suggestions, based on your spending and saving habits that can open up new avenues to save more money.
Here's what people are saying:
Engadget: "It's Been a Long Time Coming"
Nicole Lee for Engadget says this new app comes with everything that makes Mint great, plus more. "… if you've set it up appropriately, you'll be able to see any changes to your account right from your Windows Start screen."
This easy-view, real-time access is made possible with Windows 8 Live Tiles.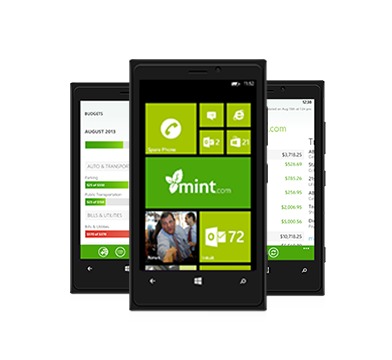 Cnet: "Mint Brings Money Moxie to Windows Phone"
Sarah Mitroff for Cnet says the new Windows 8 app makes it easier to track and categorize spending.
"Mint uses Bing Maps to match your location to a local business and will automatically categorize the transaction based on what you're buying."
This geolocation feature means if you buy a pair of shoes, Mint knows that it's a shoe store and adds the purchase to the right category in your budget.
Business Insider: "One of the Best Apps on the Planet"
Ryan Bushey for Business Insider gets a bit deeper into the benefits of Live Tiles. "… one tile can display your recent transactions while another will contain the current amount of money found in your accounts. These panels can be switched around and linked together in order to sync more tasks together."
Start Screen access to the budget features that you want to see makes this app a convenient, flexible, and useful tool for managing your money, no matter where you happen to be.
If you're a Windows 8 user, the wait is over. Mint.com listened, and followed through with another stellar way to manage money.
In no time flat, you'll be setting goals, tracking spending, and watching your savings grow.
Download the free app today and find out what all the fuss is about!
Mary Hiers is a personal finance writer who helps people earn more and spend less.